St. Louis Magazine
Preparing For The International Pooper Scooper Week With Yucko's
March 29, 2013 10:07 AM By Byron Kerman In stlmag.com
April Fool's Day is coming up, but International Pooper Scooper Week, scheduled for April 1 to 7, is no joke. I mean, it might be to some, but we've chosen to take the concept seriously (more or less) and learn about the whys and wherefores of collecting road apples from Debbie Levy, co-owner of Yucko's. Yucko's has been scooping up after hounds for 23 years now. Fair warning: Read this one after you've eaten, not before.

What is International Pooper Scooper Week?
It was created by aPaws, the Association of Professional Animal Waste Specialists. Yucko's is one of the founding organizations of that group. It raises awareness of what we do and how important it is.

How many pet-waste-removal companies are in aPaws?
There are close to 100 companies from all over the country, including pet-sitting and dog-walking companies, too.

That's a lot.
Well, it's just one of those things people don't like to talk about. But when people find out there's a company like ours, they're laughing, and if we can make them laugh, humor is good for people. But honestly, we handle the one aspect of dog ownership that people really don't care for. Some people will change a dirty diaper but they just won't pick up dog poop. And then there are the older and handicapped people who can't bend over, and we are delighted to be able to help them own dogs.

What does aPaws do for the industry?
It brings awareness and credibility to the industry. Everybody thought we were a joke. We have a "Turd Herding Contest" at our annual convention. This year it's in Chicago. It's to see how much a waste professional can pick up in a timed contest.

Do you use real or facsimile poop for the contest?
Right now we're using facsimile poop. In the past we've used cut-up potatoes. We're considering adding prunes. Check out the web page for it—the rules are hysterical. We also have "Name That Turd," where we have actual piles of poop in jars, and you have to name what breed of dog it is and if it ate dry or wet food.

Which of the various pooper scoopers do you use?
I know there are a few different designs. That's a scooping trade secret. Ya gotta hire us. Hopefully you'll never know because you won't see us. That's the beauty of the business—we come to you, get the job done, leave, and you might never see us. Out of sight, out of mind. We do leave a "PU Card" behind.

A PU Card?
That stands for "Pick Up," to let you know we've been there and picked up the poop. If we see something odd in the waste or find something noteworthy in the yard, we put that in the note, too. The other day we found a client's keys in her front door.

What other unusual items have you found in people's back yards?
We had diamond earrings once, but the client had told us we might find them because she'd lost them. We've found money, nylons, condoms, right there in the back yard. Dogs like to eat all kinds of things.

Do your employees bring rubber gloves and/or an extra pair of shoes with them?
Each has his own technique. They're professional turd herders. They're pretty good about where they step.

When your employees go to pick up after the dogs, do the dogs themselves sometimes come outside, possibly through doggie doors, and say hello to them?
The dogs get to know their turd herders and go outside all the time and say hello to them. They can't wait to see them—they're like family.

What do you do with the poop once you've picked it up?
We double-bag it and put it in the clients' trash cans.

Do you do litter boxes, too?
We don't offer that, because we don't go inside people's homes when they're not home.

Do you do horses?
No, we don't do horses. We used to do pot-bellied pigs. I enjoyed cleaning up after them.

How often do you recommend a visit
from a professional turd herder?
It depends on the size of the yard and how many dogs there are.

Yucko's is famous around these parts for your
funny company slogans. Remind us of some.
"Got poop?" "What goes in must come out." And then there's the one they wouldn't let us do outdoors: "Your dog's dreck is how we make our gelt."

That is so bizarre that they wouldn't let you use the word dreck, Yiddish for poop.
They also banned our cartoon pile of poop on some of our ads from some outdoor advertising. You can't fight city hall.

I guess you get free advertising when people see Yucko's vehicles with your logo on the side, though?
Our vehicles are not labeled. A lot of people don't want their neighbors to know their business. The best advertising is word of mouth, anyway.

How has technology changed the pooper-scooper industry since you started Yucko's in 1990?
Antibacterial hand cream got big. Oh, and there's now a motorized vacuum that sucks up the poop instead of a scooper. One guy came out with a scooper with a light on it. There's always something new.

In addition to scooping, Yucko's also sells funerary urns for pets, replica fire hydrants, oxygen masks for pets, waste bags, and peach-flavored bubbles for dogs to chase and pop.
The oxygen mask is wonderful. I talked to a lady in Jamaica the other day with a mini horse that's pregnant. Because the horse has breathing problems, she ordered a mask, just to be on the safe side when the horse goes into labor. I also sold one to a lady with a dog with a collapsed trachea. They're good to have around if you have a fire and the pets are affected by smoke inhalation. People love the replica fire hydrants, too. Dogs love to pee on them

You've been doing this locally for 23 years now, wow.
Yes. I wonder how many tons of poop we've picked up in all that time? In two years we have a big anniversary. One of the things I'm doing now is looking for the first scooping company. I've been researching that, and there's not a lot of good data on it. I've been calling and emailing people.
The Huffington Post
Holy Crap!
June 22, 2009 12:00 AM By Alfred Gingold In The Huffington Post
It's hard to find encouraging business news these days, so it was with some enthusiasm that the New York Times reported recently on a little-known segment of our brave new economy that is going strong: poop scoopers or, as they prefer to be called, animal waste specialists. For many, poop removal service has joined indoor plumbing and cable on the list of former luxuries that can no longer be done without.
Naturally, the scoopers have their own professional organization. The Association of Animal Waste Specialists (aPaws), the driving force behind International Pooper Scooper Week, devoted to "educating pet owners on the importance of cleaning up after their dogs" (In case you missed it, this year's was April 1-7), numbers about 150 members. On the Association's website, you can consult a state-by-state directory of member companies whose names demonstrate beyond any doubt that animal waste specialists like puns, wordplay and, in general, the sort of humor that makes this vein on the left side of my forehead throb visibly. Here is contact info for Yucko's Pooper Scooper Service (#1 in St. Louis for Turd-Herding!), Doggie Doo Not, When Doody Calls, In the Line of Dooty (note spelling variants), Entre-Manure, Dirty Work, Poop Masters, We Do Doo Doo and more.
The aPaws members closest to my Brooklyn home are in suburban communities in New Jersey and Long Island. It's not surprising that scooping services cater largely to a suburban clientele, slothful dog owners who let their dogs go in their yards, from whence the good luck is picked up once or twice a week. What the yard is like in between visits is something I prefer not to dwell upon, but the arrangement would certainly put a damper on one's use and enjoyment of the yard. In a word, ick. This custom of letting your dog crap on your property and then leave it there to cure is another excellent reason, along with the better known anomie and alienation and crazy teenage drivers, why you will never catch me living in a suburb.
By contrast, my dog George cohabits with an entire family of waste removal specialists and we take our work seriously. I, for one, remember the dark days before the poop scoop law of 1978 transformed New York from a land where ripple-soled shoes dare not tread to a wonderland of (more or less) poo-free streets. The pooper scooper law is one of the few laws in New York history that enjoys active support from the citizenry. Call it a matter of values: In these parts, picking up after your dog is the inalienable obligation of the owner and that is why even the most bleeding heart, soft-on-crime New York liberal is likely to support the death penalty for poop-leaving scoff-laws, preferably by some slow and agonizing method.
I've had nothing against the removal specialists themselves. Until now.
Now I know that "The good people of Poop Butler believe that Jesus Christ is Lord and Savior." I know that the mission of Pet Butler includes the intention to "honor God in all we doo." ("Doo." Get it?) An outfit call the Charlotte Poop Van Scoop wants me to know that Jesus loves me. In a related development, an outfit called Discount Pet Medicines offers this prayer right below the copyright information on their Website: "Thank you Jesus for blessing us with the presence of our pets."
I am not saying that the animal waste removal industry is an evangelical plot, but I am saying that knowing the religious convictions of the person you hire to pick up the dog shit in your yard - or from who you buy your dog meds - falls squarely into the category of Too Much Information. I understand that cleanliness may be next to godliness, but there is a time and place for everything, and poo retrieval time is not proselytizing time, imho.
Besides, dog-owning evangelicals have problems beyond the good luck in their yards. Apparently, pets aren't allowed in heaven, so come the Rapture, Fido won't be making the trip. Speaking personally, this would be a deal breaker - even if I were a believer. But at least one individual has seen an opportunity in Judgement Day. For fifty dollars, offers an avowed atheist posting on Kansas City's Craigslist, your critter will be fed, sheltered, exercised and generally well cared for from the moment you disappear into the empyrean until the end of its natural life.
The person doesn't say anything about picking up poo, though, and I believe that even in End Times, neatness counts. Which is why I wash my hands of this matter.
St. Charles Journal
ODD JOBS: Watch Your Step
Tuesday, March 11, 2008 12:07 PM CDT By Raymond Castile In The St. Charles Journal
Who let the dogs out? Who cares. The real question is, who will clean up after them?
Ann Sammons, that's who.
"I go out and pick up poop," said Sammons, of Overland. Sammons is one of seven "turd herders" working for Yucko's pooper-scooper service in Maryland Heights. With a pink rake and an aluminum dust pan, she confiscates odorous offenders outside homes and businesses in St. Charles and St. Louis counties.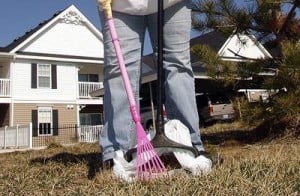 On Feb. 29, she was trekking the grounds of Springhurst Terrace in O'Fallon and searching for brown piles hiding in the grass. Herding turds requires a keen eye to spot the land mines before stepping on them. Once identified, it is simply a matter of raking them into the pan like a wild dust bunny.
"When I first heard about this business, I died laughing," Sammons said. "Then I totally fell in love with it."
Sammons was going through a divorce 11 years ago when she asked friend Robert Kemmerling for a job. Kemmerling and partner Debbie Levy founded Yucko's in 1990. They operated it themselves until business grew beyond what two people could handle.
Levy, of Maryland Heights, said Sammons could not make ends meet before joining Yucko's. After a year of turd herding, Sammons could afford to buy a house.
"I tell her now she owns the house that crap built," Levy said.
A good sense of humor is essential in the poop-scooping business, said Levy, whose family owned Overland Dairy.
"I come from a family of entrepreneurs, so I became an entre-manure," she said.
When asked how she and Kemmerling entered the poop-scooping business, Levy said, "We kind of stepped into it."
Levy said she was cutting the grass when she realized there was a need for professional animal-waste elimination, someone people could call to remove the "unknown land mines in the battlefield." Kemmerling and she obtained a business loan and started taking clients.
Levy sums up 18 years of business with one sentence: "That's a lot of crap."
Levy is president of the National Association of Professional Animal Waste Specialists. The organization has declared the first week of April as national Pooper-Scooper Week to educate pet owners about the importance of cleaning up after their dogs.
"Your dog views your yard as a toilet that doesn't get flushed," Levy said. "Dog waste is not fertilizer. Kids can get sick from it. We don't want it in our sewers or waterways. It's not eye-appealing and not nice to your neighbors."
Sammons said she loves dogs. In fact, she credits canines with helping her heal emotionally after her divorce.
"It sounds silly, but they did," she said. "You go into a person's backyard where the poop is, and the dogs are there. You open the gate and they jump on you. You have to pet them. They are ecstatic to see me. They follow me around. I know all of my dogs' names. They are like my water-cooler buddies."
The dogs are not the only ones happy to see Sammons. She also receives warm welcomes from home and business owners, landscapers, gardeners and other people on her routes.
"It is a very rewarding job," Sammons said. "It makes me feel I am needed."
The Riverfront Times
Booze You Can Lose: A Binger's Handbook
Feb 14, 2007 In The Riverfront Times
Yucko Mary
Combine one can of Pepsi, three ounces Fetzer Vineyards' Valley Oaks Pinot Grigio, two pieces dog shit courtesy of Yucko's Poop Scoop'n Service (the official poop-and-scoop service of Soulard Mardi Gras) and Arctic-brand ice. Blend.
Drink of the Week says: Earthy and gamy with a hint of wet cardboard in the bouquet, the deep oakiness of a first-growth Château Lafite as it crosses the palate and a solid, extended finish of German Shepherd turd.
The Memphis Flyer
Where's The Fire, Rover?


September 10, 2006 - 07:43 PM

By John Branston In The Memphis Flyer

Last week, police department officials were pretty embarrassed when they discovered the fire hydrant on the sidewalk outside their K-9 unit was fake — placed there years ago so the dogs would have a nice place to pee.
But a nonworking hydrant violated an ordinance requiring hydrants within certain distances of public buildings, so now the city is going to pay $20,000 to have a real hydrant installed. That's a real pisser.
But if you want a hydrant for your little pupster, a company appropriately named Yuckos offers faux hydrants for a mere $375. If you splurge for one and plunk it down in your front yard, just hope the fire department knows it's not hooked up if your house catches on fire.
St. Petersburg Times
Pasco Neighbors Seeing Yellow Over Dogs: A Conflict About Public Pet Urination Brews In A Hudson Deed Restricted Community, Which Is Considering Whether The Act Violates Covenants.
Published May 24, 2004 By Bridget Hall Grumet In The St. Petersburg Times

HUDSON - Some of the neighbors get nervous when DoeD or Ginger stop trotting and start squatting.
It's not what you think.
Vivian Bogul always picks up after her female dogs, a beagle mix and a Labrador mix that accompany her on morning walks through Autumn Oaks, a deed-restricted subdivision off County Line Road.
It's the urine that's the problem.
"If you don't water it and dilute it, it kills the grass," said Ron Ruppe, a retired New York police officer who lives down the street. "If that happens, you're in violation of the deed restrictions because your grass is dead."
The problem gets worse when other dogs sniff out the spot and decide to mark it, too, he said.
That's why some neighbors are questioning whether public pet urination violates the deed restrictions in Autumn Oaks. Neighbor Tom Contino cites this passage in the community's covenants: "No noxious or offensive activity or nuisance shall be carried (out) on, in or about any lot, unit or common area."
The homeowners association's attorney is reviewing the matter, and the board of directors could decide at its June 2 meeting whether that passage applies to Mrs. Bogul's dogs.
She finds the idea ridiculous.
"If they wanted this to be a pet-free community, they should have put that in the deed restrictions, and I wouldn't have bought here," said Mrs. Bogul, who happens to sit on the board of directors. She also owns a water and air purification business with her husband, Jim Bogul.
Mrs. Bogul has looked up maps, ordinances and covenants and insists she's doing nothing wrong. She only allows her dogs on the grassy right-of-way between the road and the sidewalk - land that is publicly owned, although the homeowners must maintain it under the deed restriction.
Neither she nor her husband has seen signs of any damage to anyone's grass.
"Their complaint is a complaint about something that isn't happening," Mr. Bogul said.
But the dispute has created quite a stink.
Mrs. Bogul accuses some neighbors of turning their sprinklers on her (they say they're just washing away the dog urine). Ruppe and Contino accuse Mrs. Bogul of encouraging her dogs to relieve themselves near their yards (she says the dogs simply go where they want).
When a dog squats or the sprinklers go on, neighbors start snapping pictures of each other. And Contino admits "giving (the Boguls) the bird" with both hands when a camera was turned on him.
"This never should have gone anywhere," Ruppe said. "This is childish."
Ever since Fido took his first squat, the question has lingered: What do you do about the doo?
Centuries ago it was used as manure or burned with other garbage. During the Industrial Revolution, scavengers scooped it up and sold it to tanners, who used it in leather softening treatments.
As more people and their pets moved to the cities in the 20th century, communities began requiring people to "curb" - or clean up - after their dogs. That messy task inspired Japanese inventor Takeki Narita to create the first pooper scooper - a long stick attached to a box with a hinged lid - which received a patent in 1969.
The courts waded into the dog doo debate in 1971, when the Essex County Court upheld a Nutley, N.J., curb-your-dog law. The judge ruled that, "Dog droppings have become a scourge, a form of environmental pollution, no less dangerous and degrading than the poisons that we exude and dump into our air and water." The man who challenged the law had to pay a $10 fine for his Great Dane's great dump.
If "dangerous" sounds like an overstatement, consider this: About 600 people were hospitalized or treated for broken limbs each year after slipping on dog droppings in Paris, the New York Times reported in 2001. A law requiring people to curb their pets went into effect the following year, ending the city's strange practice of sending out workers on bright green motor scooters to suck up the dog doo with a vacuum-cleanerlike contraption.
Today there are numerous pooper scooper patents and dozens of "doody duty" services across the country that clean up after pets for a price. They even have their own trade organization: the Association of Professional Animal Waste Specialists (aPaws).
But while poop has inspired laws, sparked inventions and spawned an industry, dog urine largely goes unnoticed and unregulated, aPaws president Debra Levy said.
"It's more of a be-nice-to-your-neighbor kind of thing," said Levy, owner of Yucko's scooper service, the self-dubbed No. 1 "turd-herder" in St. Louis. "You do have the power to direct your dog to urinate somewhere else. If a dog has to urinate, I don't have a problem with it - just not on my mums."
In Pasco County, the ordinances are anything but clear on the matter.
The county's antilittering law - which bans people from littering on public roads, rights-of-way, water bodies or private properties - includes "animal waste" among the definitions of litter.
A pet owner risks a $155 fine for leaving it behind, although citations are rare because the pet must be caught in the act, Assistant County Attorney Kristi Wooden said.
The legal hair-splitting arises over urine. Technically, it's waste. Practically speaking, however, there's no way to force people to clean it up, she said.
"It might not be the most polite thing to do, but it's not something I'm going to be prosecuting until someone tells me I must," said Wooden, who handles animal control and code enforcement cases in county court.
Her rule of thumb: "The more solid the waste, the more solid the case."
But deed restrictions are another matter.
Residents agree to stricter, self-imposed rules on the theory that it keeps the neighborhood nicer. By the same token, the homeowners association can be a place where personalities clash.
Mrs. Bogul thinks she ruffled feathers earlier this year when she questioned the way certain members handled deed restriction issues without consulting the full board.
John Tallarine, president of the board, acknowledged the dog urine debate includes a "personality conflict." But he said his only concern is whether the public urinating violates the deed restrictions.
"Anything else is a civil matter," Tallarine said.
Ruppe and Contino describe themselves as dog lovers and former dog owners. Contino used to hold birthday parties for his dog Uno, an Alaskan malamute/golden retriever mix, and now keeps the urn of Uno's cremains on a table at his home, surrounded by the dog's squeak toys and pictures.
They're not asking Mrs. Bogul to stop her walks. Just don't let the dogs relieve themselves along the way, or use a vacant property where no one will care, they said.
"All you have to do is pull the leash," Ruppe said.
Ray Kleckner, former president of the association, thinks Mrs. Bogul has the right to let her dogs use the right-of-way, as long as she picks up after them.
But he added: "I do feel that, to relieve the tension, maybe Vivian (Bogul) should walk a different route."
Mrs. Bogul doesn't plan to change her path, however. She must walk on certain sides of the street to see oncoming cars around the corners, she said.
Based on her research, she thinks she is following the rules. She even takes her dogs to her back yard to empty out before the walk.
Her morning stroll should not be a matter for the deed restriction committee, she said.
"If we lose our right to walk on public land, what are they going to go after next?" she asked.
- Times researcher Caryn Baird contributed to this report. Bridget Hall Grumet covers Pasco County government.
The Riverfront Times
Test Your Pee-Yew IQ At The Pow Wow of Pooper Scoopers
Jan 14, 2004 By Paul Friswold In The Riverfront Times
Everybody loves a good poop joke. Even a halfway-decent poop joke garners laughs, because poop is inherently funny. Saying the word aloud in a group of so-called adults is sure to break up at least one immature person (usually male), which normally leads to a chain-reaction giggle-fit.
So the decision to start a business based entirely on a comedic cornerstone of the English language is a sure sign that you have a good sense of humor. Debbie Levy of Yucko's Pooper Scooper Service certainly has one, or she wouldn't organize the Second Annual Pow Wow of Pooper Scoopers. This three-day seminar for those in the business of cleaning up other people's pets' business (a class of professional whom Debbie refers to as "entre-manures") does more than just summon super-scoopers from across the country for the purpose of sharing tips on technique and equipment (most of which is custom-made by industrious scoopers). The Pow Wow also helps to raise money for the United Animal Nations, an organization devoted to aiding animals (www.uan.org). Truly, the Pow Wow is a way for the scoopers to give something back to those who have given them so much.
Of course, the social conscience of the Pow Wow runs headlong into the attendees' sense of humor. On Saturday the scoopers will compete in the "Turd War Games." In addition to "Turd-Herding" (the gathering of droppings in a race against the clock), this year the experts in excrement will test their knowledge with "Name That Turd." Here, the pre-gathered, jar-contained specimens must be identified by dog breed, solely by sight, not by smell or touch (Levy notes that many pro scoopers conduct their business in a "hands-on" fashion). Of course, spectators are welcome. Try to keep the snickering to a minimum during this event.
CNN.com
First-Ever Pooper Scooper Pow-Wow: Who let the dogs out?
Pro 'Poop Scoopers' to Share Their Wares
Friday, January 17, 2003 Posted: 10:31 AM EST By JIM SUHR, Associated Press Writer, On CNN.com
ST. LOUIS, Missouri (AP)
The folks who've made a business of cleaning up what the dogs leave behind are about to drop in on St. Louis for a gathering all about the scoop on poop.
Sound like a waste of time? Not for Debbie Levy and others across the country who spring into action whenever doody calls.
"Smells like money to me," quips Levy, the suburban St. Louis woman behind Yucko's Poop Scoop'n Service, the home-based outfit she stepped into about a dozen years.
"I look at it as diamonds in the rough," says Levy, a veteran poop scooper in what has emerged as a cottage industry complete with its own, Levy-founded trade group and, now, a convention.
More than 30 specialists in dog waste disposal are to converge here Friday through Sunday for the first-ever "Powwow of Pooper Scoopers."
The Scoop:
There'll be guest speakers, group talks and networking. There'll be a field trip to the American Kennel Club's Museum of the Dog and a stop at the Gateway Arch. All of it leads to the main event: a contest in which convention-goers use their tools of the trade -- everything from special rakes and hoes to tried-and-true gloved hands -- to rustle up ersatz excrement.
#1 In The No. #2 Business:
Most estimates say a few hundred people make dealing with dogs' No. 2 their No. 1 priority. Such ventures dot America's landscape, from New York's Minesweepers to New Jersey's 'In the Line of Dooty' and California's 'On Doody' and 'We Do Doo'.
If you think it's easy money, don't hold your breath, Levy cautions. While her five-employee Yucko's is her sole income source, the single mother of a 6-year-old daughter warns that prospective Scoopy Doo-ers must handle marketing, taxes and licensing, never mind the endless snickers and wisecracks.
"Business has been picking up" and other puns have rolled off Levy's tongue since she opened shop in 1990, after stepping onto something the neighbor dog left behind.
Demand since has kept her paying the bills through the service that charges $15 for a once-a-week visit, at least $25 for a stop at least once a month.
Her clientele has included John Geimer, who summoned Yucko's after his golden retriever, Jennifer, kept eliminating outside his jewelry shop. As for cleaning it up, Geimer says, "it's not that I didn't want to do it. It's just that I didn't have time."
The Riverfront Times
Two Scoops: Unconventional Convention Delivers The Poop
Jan 15, 2003 By Byron Kerman In The Riverfront Times
There is controversy in the world of dog-poop-removal professionals. Some swear by their shovels. Others prefer rakes. Some enjoy the ease of a broom and dustpan or a pair of extra-long tongs. Then there are the mavericks: a few brave souls who rely on modified log-scooping equipment they've devised themselves in secret underground labs. Which tools pick up waste the best, and which are the fastest? That's the question that will be answered at the "Pow Wow of Pooper Scoopers," a national convention for businesses that specialize in cleaning yards full of Fido's fungoes. Apparently it's not just bowling and gooey butter cake that makes our town the best: St. Louis is also home to Yucko's, one of the nation's most prominent pet-waste-removal businesses. Yucko's received attention in the Riverfront Times two years ago, when we reported o
n their graphic advertising techniques, which drove some community leaders to distraction. Yucko's was asked to change its giant ads, displayed in bus shelters and elsewhere, depicting a big brown cartoon turd and a grinning pooch, along with the phrase "Professionals in Turd-Herding." The company's clever rejoinder, ads with big "CENSORED" bars over the offending offal, smoothed the wrinkled brows of Bi-State officials. Now Yucko's has organized the first convention for the industry. Representatives from more than 30 businesses dedicated to making your yard safe for touch football will converge to compare notes and scoopers. On Saturday, the public is invited to witness one of the most unusual races we're ever likely to see: an outdoor poop-pickup contest featuring the Mario Andrettis of the scoop-for-speed set. Yucko's chief Debbie Levy reports that event planners have not decided whether actual canine remainders or plastic facsimiles will be used in the race. She also warns that some of the competitors plan to use their hands (in rubber gloves, right?). "That's what a turd-herder does best," says Levy. "They're gonna have to show us their best shit."
St. Louis Post-Dispatch
Local Odd Jobbers Say Somebody's Got To Do It
01/12/2003 12:00 AM By Diane Toroian Of the Post-Dispatch
When it comes right down to it, most of us have odd jobs. Just look at your wacky colleagues, your eccentric boss and your fussy customers. No question, the curiosity of your 9-to-5 life would astonish many observers. But then there are those St. Louisans whose jobs take odd to the next level. We caught up with three such workers - a pool table doctor, a pooper-scooper and a headstone salesman - and talked about their roots, the tricks of the trade and why their odd jobs suit them.
Occupation: Pooper-scooper
Business: Yucko's, Maryland Heights
Debra Levy knows folks think her job is odd, but she's not sure why. Housekeepers get paid to wash floors. Landscapers get paid to cut grass. So why shouldn't Levy get paid to collect doggy doo?
"This country was born on service, and I'm providing a service people want," said Levy, mother to two Chihuahuas. "Think about it. Everybody has stepped in it once in their life. A lot of people can't handle the gag factor or they don't have the time or they physically can't do it.
Levy started her pooper-scooper service, Yucko's, 12 years ago. She spent the first few years in the field, so to speak, before hiring a crew of five so-called "turd-herders" to clean yards across St. Louis and St. Charles counties. She charges $15 to clean the average yard. Yucko's also sells biodegradable litter bags, pet signs and Yucko's "Doing the Doo" T-shirts through its Web site, www.yuckos.com.
Levy declines to say how much she makes or how much she pays her staff. She will say that one employee - a single mom with few resources - was able to buy a new house on her Yucko's wages after a mere two years.
"We call it the house that (doo) built," said Levy, with a laugh.
Right now, Levy is busy organizing this week's national convention of pooper-scoopers here in St. Louis.
Believe it or not, these pros have a lot to talk about it.
"We want to create a national directory of scoopers and think of new ways to build awareness," said Levy. "What we do is not just a cosmetic thing. It's healthier for your dog and for your children. Animals carry various parasites and diseases."
But the convention promises plenty of laughs too, said Levy. After all, in this business, you need a sense of humor.
"I'm very excited about the turd-herding contest. Part of being a turd-herder is being able to identify (the piles) in different lighting, in the leaves, in the snow. To us, it's like diamonds in the rough," said Levy. "People wonder how we can stand it, but it all smells like money to me.
The Guardian
City Diary
Thursday January 9, 2003 By Richard Adams On The Guardian
Something to look forward to this month: the second annual meeting of the Association of Professional Animal Waste Specialists (aPaws), "a pow-wow of pooper-scoopers" according to its publicity. Although this may be faintly comic, aPaws takes itself very seriously, as the organization's "statement of philosophy" on its website makes clear: "Members shall not denigrate the honesty or competence of any fellow colleague, or partake in actions or business practices which would result in dishonour to, or distrust of, his/her competitors or the animal waste industry in general." Quite right.
Deep Doo-Doo: A Professional Poop-Scoopin' Business Raises Stink Over A Crappy Ad
March 22, 2000 By Adam Pitluk In The Riverfront Times
Ah, to remember the days of old. At the turn of the century (that's the fur-trader-and-beaver-trapper turn-of-the-century and not Y2K), St. Louis and her outlying towns were rough-and-tumble. Twisting trails ran through what would become St. Louis County, and lush forests blanketed the landscape. Into this untamed wilderness came some of those crazy foreign cowboys of old, the French. They settled places like Chesterfield and Creve Coeur and left their footprints elsewhere. Frontenac, for example, was named by wannabe-Frenchman Benjamin Wood after his travels through Quebec. Seems these early white settlers wanted to make a Versailles of their very own in the New World. And, as the world knows, the French like having stuff done for them. After all, these are the people who still brag about giving us the Statue of Liberty, who are widely regarded as unenthusiastic when it comes to personal hygiene and who even embraced Jerry Lewis as a national hero.
Although there are no big French communities in West County anymore, old habits die hard. There's money in these parts, as well as some well-endowed folks who like taking advantage of the finer things in life while letting others do their dirty work.
Enter Yucko's, the heavyweight champions of, as the French say, la merde. Yucko's, the self-proclaimed No. 1 service in the No. 2 business, specializes in dog-poop removal. But make no mistake: This is not just a waste-disposal service. The people of Yucko's are the laborers who comb the big backyards of the bourgeoisie, searching for piles of stinky.
"I mean, hey, that's what we do do. It's poop!" says Debbie Levy, Yucko's founder and chief executive officer. "No dog, no job too big or small. We're not afraid of nothin'."
Levy is the head entremanure of her K-9 excrement business. Since the inception of Yucko's in 1990, the company has doubled in revenue every two years. Levy, 42, won't disclose the company's sales in 1999 but says they're in the six figures -- and that's no bull.
But, Levy says, her business has taken a hit because of her recent clash with the Bi-State Development Agency and Wall USA Inc., a German company that constructs those new Euro-looking bus-stop shelters that line major thoroughfares like Lindbergh Boulevard. Yucko's had a contract for five shelter signs to be displayed every month until November 2000. One was to be placed in front of ritzy Plaza Frontenac. The controversial advertisement depicted a cartoon dog staring at a pile of poop about 3 feet taller than he. The dog sports an overly happy look on his mug -- a shit-eatin' grin, as it were -- as though the dog knows he's made a mess but you get to clean it up. Yucko's, the ad notes, is the place to go for "Professionals in Turd-Herding."
Exactly why anyone would bill himself a "turd-herder" is a question in and of itself. But the signs wound up gracing Wall USA bus shelters in Frontenac and Creve Coeur, putting some local residents' panties in a twist. Bi-State officials say they received several phone calls from angry citizens saying they would prefer not to stare at cartoon crap while driving down Lindbergh. Seems youngsters riding shotgun in BMWs were asking, "What is a turd?" Sacré bleu! Sensitive to the uproar, Bi-State official Thomas Sturgess fired off a letter to Wall USA, demanding the immediate removal of these signs.
"I am of the opinion that it is not in good taste and is inconsistent with the positive public image that we strive for as part of our corporate values," the letter states. "Specifically, I refer to the 'Turd Herding' wording and the large brown pile in the center of the sign.... Such language may be common in some parts of society today, but it is vulgar and not acceptable or what we want the Agency to be associated with."
Because Wall USA essentially must do whatever Bi-State tells them, the signs came down on March 10.
"We give Bi-State a very small percentage of our revenues each year as a payment for being the company we contracted with," says Kippy Burns, Wall USA general manager. "Part of our agreement with them is, not only do we have to have a particular performance specification, but if the advertising is deemed inappropriate to a particular community standard or to Bi-State's corporate ethics, they can ask us to remove the copy, and that's what happened here."
Wall USA has a 15-year contract with Bi-State to erect and maintain 400 bus shelters. All 400 will carry advertising, and the company's profit, for the most part, is generated through these signs.
Levy says her business was "booming" when the signs were up and complains that business has slowed since their removal. Before the signs, she says, she was averaging two or three phone calls a day. But after the turd-herders went public, she claims, Yucko's was getting about seven calls a day -- an increase of more than 100 percent!
Bi-State's disapproval, Levy says, put a chill on the business, threatening the livelihoods of productive members of society -- folks like Turd-Herder No. 1, Harry the Executive Pooper-Scooper, Fat Bob and the silent worker, a part-time Yucko's employee who prefers to stay out of the limelight.
Levy raised a stink with Wall USA and Bi-State. She complained about censorship, the narrow-mindedness of some folks ("People are afraid to talk about poop," she observes), the plain injustice of it all. Ultimately, Yucko's yielded to the bus company and popular prejudice.
Working with an advertising agent (who also prefers to remain anonymous), Yucko's retooled its bus-shelter ad. The new version features the same rascally dog and the word "Censored" coming both out of his butt and running across the bottom of the sign where "Turd-Herding" used to be. The ad has been approved, and Wall USA agreed to pay for the printing of the new signs.
In the end, everything appears to have worked itself out.
And for Yucko's, the future appears bright and brown. The company has already started work with other animal feces and will continue to rise to the occasion.
"We've picked up goose poop," Levy says, way too enthusiastically. "We used to have a customer who had a pot-bellied pig, and we did the Mardi Gras one time. I tried to give away the Anheuser horses' poop, but nobody would take it."
And, contrary to popular belief, the Yucko's staffers do not put the poop in paper bags, place the bags on people's door stoops and set them on fire.
Yucko's charges $15 a pop, on average, but cost varies, depending on the size of the yard and the number of dogs.
Of course, you could just pick up your own dog's shit for free.
St. Louis Post Dispatch
It's A Dirty Job, But Yucko's Owner Says Business Is Picking Up
Monday, October 30, 1995 By Jim Gallagher, Section: Business Plus
Debra is a nice-looking redhead, but she has trouble getting dates. She thinks her job is the problem. "A guy looks at me and he thinks, 'She's 38 and she's not married and she makes her living picking up. . . .' They don't know if I'm eccentric or crazy." Debbie runs "Yucko's: Your Pooper-Scooper Service." The job does not lend itself to thoughts of romance. Yucko's will come to your house and clean up after your dog. Scoop in hand, Yucko's has also been known to follow after pigs, geese, pigeons and an occasional horse.
If you went to the Mardi Gras parade in Soulard a couple of years ago, you saw her in action. She was the one following the Clydesdales with a shovel. Debra did not grow up intending to run such a service. She used to help run a boutique. When that job fizzled, she began looking for a business she could start with no money. At a backyard barbecue one day, she began chatting about the problem with friend Bob Kemmerling. inspiration struck as she gazed out over the lawn. "I said, `Bob, everybody must have stepped in it once in their life. There has to be a need.' " The cost of entry was certainly low.
Debbie thought of the corporate name while looking at a baby diaper. With Kemmerling as her partner, Debra began her marketing campaign with an ad in the Jewish Light. She's also tried ads on cable TV, the Ladue News, direct mail and gift certificates. One woman customer bought Yucko's gift certificates, attached them to a framed picture of the family dog, and gave it to her husband for Christmas. For the fashion conscious, there is now a line of Yucko's T-shirts and baseball caps.
Advertising is a necessity. Word-of-mouth doesn't work for a pooper-scooper service. "People don't sit around at formal dinners talking about this stuff," she said. The ads produce a bumper crop of crank calls. "They call at midnight and say, `I've got an elephant in my back yard,' " Debbie said. One prankster called everyone he knew with a beeper and left Yucko's telephone number. Debbie found herself explaining Yucko's to a flock of confused beeper-holders. The ads also produce a lot of legitimate business. Debbie has developed a technique for dealing with first-time callers, who often don't know what to say to a professional scooper. "They go `uhhh, uhhhh,' " said Debbie. "You've got to get them laughing, then they talk up a storm. "They'll ask, `How do you charge?' " `By tonnage,' I'll say." Actually, she charges by the size of the yard and number of dogs. A typical yard costs about $15 per weekly visit. Most of her clients are affluent people in Ladue, Clayton and south St. Louis County. They're too busy to do the job themselves, said Debra. Take John Geimer, owner of Geimer's Jewelry in Clayton. Geimer brings his dog, Jennifer, to work with him. One day the landlord called and said, "There's so much dog stuff out here, and you've got the only dog." Geimer thinks Jennifer is unfairly maligned for the deeds of other dogs in the neighborhood. But to keep the peace, he hired Yucko's. "It's great. It keeps everybody happy," he says.
Debra is coy about the number of customers she serves. But business is good enough that she has hired one full-time helper and is considering bringing on another. "My only problem is when a dog dies. I lost two dogs in one week," she said. "Then I found a dog and I started calling my customers. If I can get the dog in there, I figure I'll have them for 10 years. An injured to her neck and made it hard for her to look down - a requirement in the pooper-scooper trade. These days she spend managing Yucko's. Kemmerling has since moved to the Lake of the Ozarks, where he's opened a branch of Yucko's. So, most of Yucko's dirty work in St. Louis now falls to Debra hired hand, Marty Graham. Graham, 26, is a bearded guy who wears a baseball cap backward. He was a construction worker before he found Yucko's. The job's a breeze, he says. "You just have to watch where you step and keep upwind. My boss, she's real cool. There's no boss standing over your head telling you what to do." He doesn't mind telling his friends what he does for a living. "Some of them don't believe me. Some guys get a kick out of it." Besides, the pay's not bad. It's enough to help support his wife and two kids. As for Debra, she has dreams of grandeur for Yucko's.